This month's regular Mens' Haircut of the Month spotlight at Bristol Barber is focusing on a firm favourite in the men's hairdressing selection of men's haircuts from our Gloucester Road-based barbering salon – Side Parting Short Back & Sides.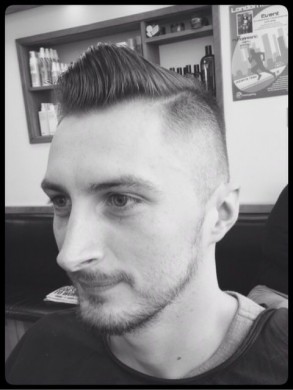 This combination hairstyle for men is complex, drawing upon a few different elements for creative cutting success.
The main considerations are a side parting, with short back and sides, combined with a quiff for a tight, sharp, classy finished men's haircut.
The short, back and sides are high, with a 0.5 grading faded into the parting with clipper work, using a guard placed high and tight. Length is retained on top and front, and shorter at the back.
The look is completed by using American Crew Pomade for a shine finish – done in less than 30 minutes in the chair at the best barbers in Bristol!
Get the finished look and hair product at the awesome price of £30 for both.
To find out more about our Gloucester Road men's hairdressing salon in central Bristol, contact us here.