Bristol Barber loves to keep an eye on the best barbering trends and men's hairdressing in the city and across the UK from our Gloucester Road men's hair salon.
And this week, we've got an increasingly popular men's haircut for you – the under-discussed, but hugely important skill of Beard Shaping in Bristol.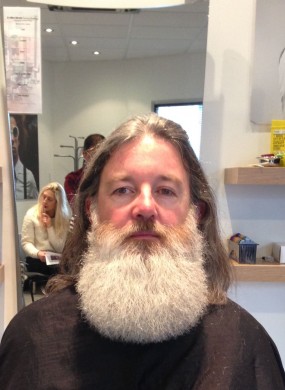 Beards are increasingly popular in Bristol, and this men's haircut uses scissors with no clipper work: it's all about the styling.
Beard styles in Bristol used to be short, crisp, tight and clean – but now, guys are going for full, big, bushy beards. And this is where Beard Shaping comes into play.
Make sure you comb your fuller-shaped beard daily with a big-toothed comb! This will make maintenance and styling much easier in and out of the salon.
Beard shaping nowadays is all about the shape of the beard, rather than the shape of the jaw-line – this means the beard shape is the key to successful beard shaping and male grooming. The jaw-line is no longer important here.
Small scissors were used to create the beard shape, with beard oil (we recommend Glaze Haze from TIGI B) being applied for conditioning.
The beard shaping took 20 minutes in the chair, and costs from £10 – pop into our central Bristol male grooming salon today to find out more and book in.
As a further tip for guys with beards – comb the beard daily and apply two drops of conditioning serum. Comb this through. Make sure that you also shampoo your beard as you would with your hair – it's all about maintenance.
To find out more about our Gloucester Road men's hairdressing salon in Bristol, contact us here.