Bristol Barber Founder Franco Lombardi recently spent a day with Westbury-based hair salon SK109 delivering men's hairdressing expertise and barbering tips to Sian and her team of superb stylists.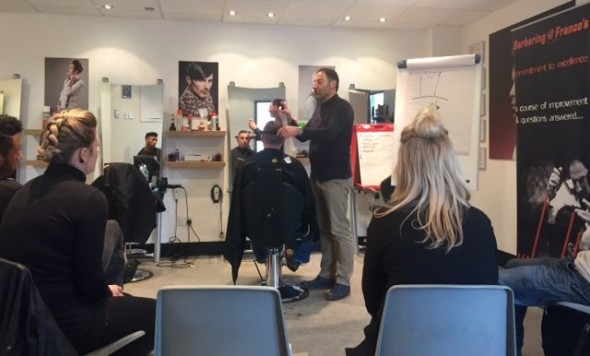 The men's hairdressing training day was an Advanced Workshop, spanning a full day, and forming part of three training sessions.
Franco delivered more than three decades of men's hairdressing knowledge to five stylists at SK109, which included two men's haircuts in the morning, including a beard trim, skin fade, plus a short scissor men's hairstyle.
The afternoon session saw the stylists delivering the haircuts on models, with follow-up and feedback from barbering guru Franco. An awesome day!
The feedback from the SK109 stylists was positive, and providing new experience in men's hairdressing was rewarding for the SK109 team.
To find out more about our men's hairdressing salon on Gloucester Road in Bristol, contact us here.