Bristol Barber men's hairdressing gurus have been providing barbering expertise for a male fashion and men's grooming bonanza night at Reiss's store in central Bristol.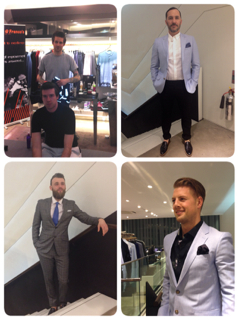 The men's fashion and male grooming extravaganze was held in private on Wednesday 01st April in the central Bristol Reiss store, with a selection of Bristol Barber clients attending and getting the low down on looking sharp.
As before, Franco Lombardi and the amazing team of men's hairdressers from our Gloucester Road barbering salon provided a pop-up men's hairstyling shop on the night – no scissors, it was all about men's hair products and off-the-cuff men's hairstyling, in line with awesome clothing.
There was also a fantastic 10% discount given on all Reiss clothing, and the Reiss stylists were on hand to provide expert men's fashion tips, as our men's hairdressing team helped to create sharp, streetwise cuts for the guys.
TIGI Powerplay hair products were given out, as well as our barbering team providing quick and easy looks – such as quiffs and slickbacks.
It was the perfect collaboration between men's hairdressing and male fashion in Bristol, and a big thank you to the top team at Reiss!
To find out more about our men's hairdressing salon on Gloucester Road in Bristol, contact us here.