Bristol Barber Founder and Creative Director Franco Lombardi is training hard at the moment, getting ready to tackle the London Marathon 2015 for a charitable cause.
Having just completed the Bath Half Marathon – more to follow on that next week on our men's hairdressing blog in Bristol – Franco is getting ready for the ultimate marathon challenge in April.
Franco will be running the London Marathon this year on 26th April to raise money for local charitable cause, the Bristol Rugby Community Foundation, which empowers young people through sport to make positive life choices.
You can sponsor Franco here – so please help raise money for this awesome cause.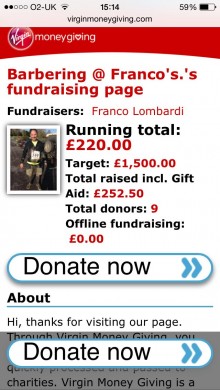 Franco is currently working with a personal trainer, including indoor gym workouts to strengthen core areas, pilates sessions, gym-based speedwork, and a combination of 8 and 14 mile runs during the week – all in preparation for the big event in London next month.
To find out more about our Gloucester Road men's hairdressing salon in Bristol, contact us here.