We've got exciting news this week at Bristol Barber with a new barbering Apprentice joining the team at our men's hairdressing salon on Gloucester Road.
And the latest addition to our Bristol barbers is none other than Luca Lombardi, the son of Franco Lombardi, Founder and Creative Director at Barbering@Franco's. Talk about a chip off the barber's block!
Luca (18) has joined the family firm as a Barbering Apprentice, completing blockwork, working with different hair products for men, and experimenting with different hairstyles for men – including this early quiff effort recently: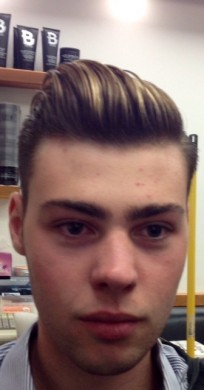 Luca will be expected to successfully complete a minimum of two years' Apprenticeship, to learn the basics of barbering at the Bristol salon.
Luca has been observing other team members delivering awesome men's hairdressing in Bristol, and will be attending hairdressing college via Reflections Training Academy from January onwards.
Welcome on board, Luca – you're joining the best of the best!
To find out more about our central Bristol barber salon, contact us here.