Bristol Barber Founder Franco Lombardi (in action in the picture below) has attended another one-day men's hairdressing and management training course from the expert team at Winning Ways in Droitwich.
It was a fantastic workshop, attended by hair salon and barbering salon owners, with attendees from across the UK finding out more about the 'DNA of Barbering' at the stunning Chateau Impley in Worcestershire.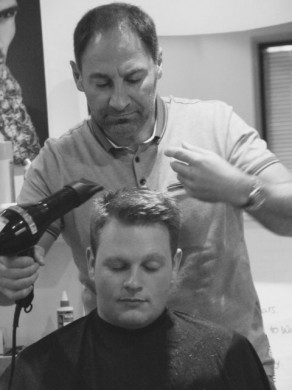 The 'DNA of Barbering' course covered critical elements of men's hairdressing and men's hairstyling, including:
* Dissecting down each men's haircut before beginning
* How is the hair lying, what thickness, and the natural fall/style
* Is it thick or thin hair, and how could this affect styling
From these initial questions, it's the responsibility of a barber to work out what's achievable in terms of men's hairdressing for the client, as well as understanding what can be achieved with the client's natural hair type.
Interestingly, it was highlighted on the day that in a recent survey, 97% of men's hairdressers felt that they delivered an effective hair consultation for clients before beginning to cut and style a client's hair.
When questioned, however, only 3% of clients, felt that they'd received a thorough hair consultation before having their hair cut and styled.
Things to look out for from a barber should include questions such as "What would you change?" and "When were you last complimented about your hair?" as part of an effective men's hairdressing consultation.
An awesome day, awesome barbering education, and awesome results!
To find out more about our central Bristol barber salon, contact us here.