As men's hairdressing experts in Bristol, at Bristol Barber we love delivering the ultimate barbering experience – and not just in our Gloucester Road barbering salon.
As we recently proved, when Cabot Circus-based fashion retailer Reiss held a Gentlemen's Night to preview their Autumn Collection of clothes, watches and shoes.
Bristol Barber were on hand with a pop-up barbering shop, to give men's hairdressing hints and haircare tips for men in Bristol, whilst Reiss management provided drinks and canapés through the 6-8pm event.
Here you can see Bristol Barber Founder Franco Lombardi in action, delivering a quick and effective men's hair makeover at the Reiss store.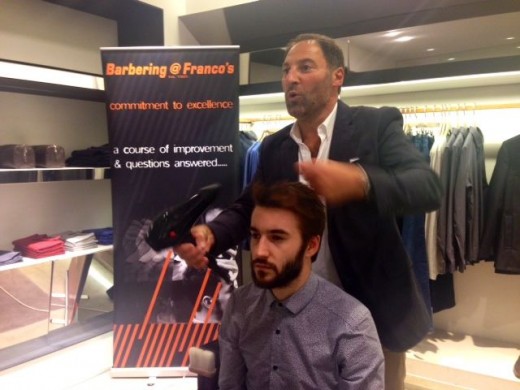 It was an awesome evening, with men's hairdressers Franco and Josh Parr showing guests how to get the very best from their hair this Autumn.
To find out more about our central Bristol barber salon, contact us here.