We've had another awesome client event at Bristol Barber – part of our regular 'thank you' to star clients, as well as a great excuse to have a fantastic day out!
The most recent event was a Golf Day at Bristol Golf Club, which also happened to be on a glorious sunny day, too.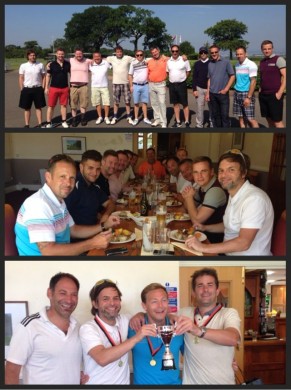 With 16 of our barbering clients, we had 4 teams of 4 on the day, starting the day with a bacon roll and coffee, a full round of golf, then finishing off with a sit-down meal at the 19th hole.
Prizes, including a travel bag full of men's hair products, awards, and a pack of Callaway Golf Balls were given out for closest to the green, the longest drive on the day, plus the winning team.
The winning team on the day were the following golf superstars:
Daryl Kingburys
Simon Lumber
Matt Porttor
Our next big barbering event will be Franco's Curry Quiz Night on Saturday 25th October – pop into our Gloucester Road-based barbering salon to find out more and book one of the limited places for the evening.
To find out more about our central Bristol barber salon, contact us here.