It's been a busy week at Bristol Barber, with MD Franco Lombardi delivering an Advanced Barbering Course to Welsh hairdressers at Shaltons hair salon in Cardiff.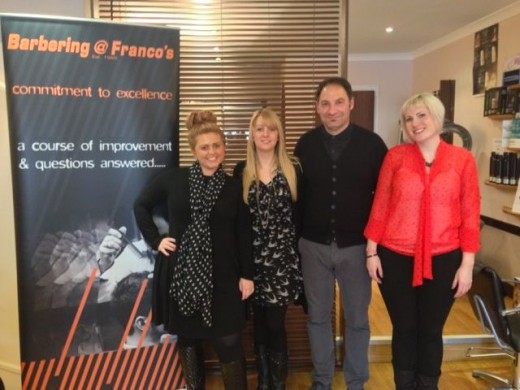 The course, which ran all day on 24th February, was for four creative stylist delegates at the central Cardiff hair salon at the TIGI stockist hairdressers.
Franco provided two demos in the morning, then got the delegates working on hairstyles and more in the afternoon.
The Advanced Barbering Course, devised by Franco after more than 30 years' men's hairdressing expertise in Bristol, comprised of:
Bespoke hairstyling for men
Mapping out men's haircuts
Different barbering & cutting techniques
Personalised men's hairdressing
More creative cuts for men
It was an awesome day, with the delegates enjoying the barbering training, as well as more men's hairdressing hints and tips being provided by Franco across the Bridge! More training and workshops to follow during 2014, too.
To find out more about our central Bristol barber salon, contact us here.