At Bristol Barber, we've been reviewing our top hair products for men as used in our central Bristol barbering salon, and it's time to focus on TIGI Glaze Haze.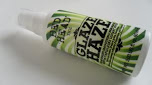 Glaze Haze oil from TIGI B for Men is suitable for all hair types, and essentially helps to control hair dryness, as well as preventing frizz.
It's an awesome pre-styling hair product, that also helps to condition and protect hair – critical during harsh Winter weather. We think it's one of the best hair protection products for men available on the market!
Available in-salon for only £10.95, so pop in to try and buy some today.
To find out more about our central Bristol barber salon, contact us here.