One of the best things about delivering men's hairdressing at Bristol Barber is the amount of opportunities we have to create fresh, exciting and contemporary men's haircuts.
And our barbering team had an awesome opportunity to really showcase our skills recently, at the National Hairdressers' Federation charity event at the Paintworks in Bristol.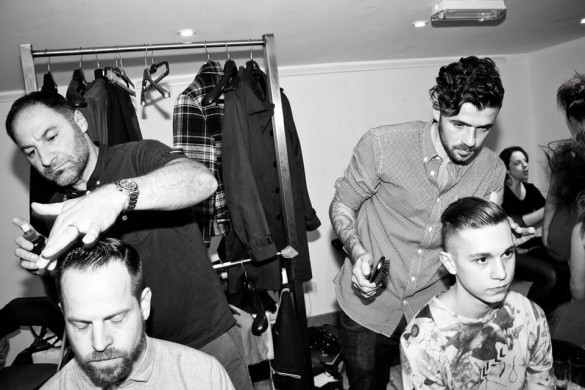 The NHF Runway event brought together the best of Bristol hairdressers and barbers for a one-off charity event in aid of local organisation The Jessie May Trust.
Tickets were £10 each, and a range of hairstyles and hairtips were highlighted to the audience throughout the evening.
Franco's theme was to adapt looks for 10 models – all clients at our Gloucester Road-based barbering salon – and give them fresh looks tying in with their clothes.
Clothing was kindly supplied by John Anthony in Cabot Circus and a massive thank you goes out to Chris and Helen for their help and support.
Our collection of men's hairdressing for the Runway event included classic cuts, slick backs, partings, quiffs, long hair disconnection cuts and under cuts.
Our models got to see a very different side to the Bristol Barber team, as we performed under the pressure of a live show, adding extra creativity to each men's haircut and styling process.
All our models really enjoyed taking part, and a huge thank you from us to all the guys for giving up their time for clothing fitting and event rehearsals.
The event was well attended, with 10 Bristol hair salons taking part and a fantastic £700 being raised for the Jessie May Trust. Plans are now being put in place to make it a yearly event in Bristol, too!
To find out more about our central Bristol barber salon, contact us here.