The Bristol Barber is used to having a variety of top hair products for men at our central Bristol salon – this helps us to give the best hairstyles possible, of course.
And for this month's Offer of the Month, it's time to put Evo Box O' Bollox in the spotlight for you.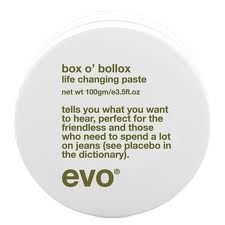 It's a fantastic hair styling and finishing product, in a round puck, and is applied as a paste to the hairstyle – ideally on wet hair.
Once applied, it sets quickly and comfortably in place, and provides a strong hold. Perfect for short to medium length hair, we love it.
And, for the next month, pop into the salon to get yours, too! Reduced from £13.95 to £11.95, simply ask for 'Evo blog offer' when you purchase.
Available for the first 20 clients who ask, so grab it whilst it's hot!
To find out more about our central Bristol barber shop, contact us here.