This month, we're singing the praises of a brilliant American Crew hair product for men – and one which we use daily in our central Bristol barber shop. We love it, our clients love it – and we think your hair will love it!
American Crew Fibre is an excellent hair styling product for guys: it comes in a round puck, and gives a strong hold with a dry finish.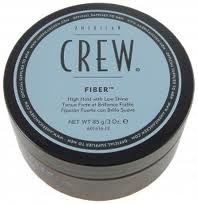 Simple to use, with long-lasting hold, it's a perfect men's hair product for those who want no hassle, no fuss hair control.
We also sell it, so grab some for yourself on your next visit to our central Bristol barber shop – a bargain at only £14.75.
Find out more about the range of American Crew hair products for men here. Top products, top brand, one of our favourites.