At our central Bristol Barber salon we like to spoil and pamper our clients – stands to reason, really, after all, a mens' haircut shouldn't be something that's a chore.
We offer some pampering services, too – such as our Hot Towel Shave, which is proving to be really popular amongst regulars and new clients alike.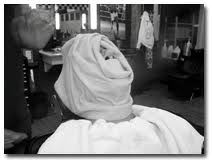 So, for our offer of the Month, we're going to give our Wash, Cut & blow Dry service at £12 between 9-12 on Monday, Tuesday and Wednesday until the end of June.
Now, there's no excuse not to get your Summer haircut sorted!