One of the best things about being in our central Bristol Barber salon is that no two days are ever the same – due mainly to the awesome variety of clients we get coming into our salon.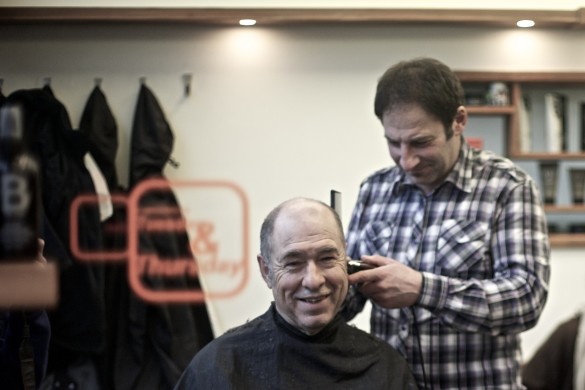 But, to give you a flavour of a Day in the Life of a Bristol Barber, here goes!
A great start to the day – 7am in the gym with a 30-minute run to clear the mind and enhance focus – followed by a cracking breakfast, of course.
Hair groomed to fit the wardrobe today – going for a simple but stylish look, of black jeans and turn-ups, navy suede brogues, white fitted shirt, finished off with a blue and black tie.
The main preparation as a Bristol barber to promote the salon is, essentially, in getting my own hair care and look absolutely spot on: this is done with TIGI Bfor men daily shampooand conditioner, towel-dried then sprayed with leave-in conditioner.
A quick blowdry to style, and finished off with TIGI B In-check for men– this brilliant hair product for men gives medium hold with a slight shine, whilst also removing any frizz effect.
The perfect advert for Barbering@Franco's is ready for work!
Into the salon, and it is important to get clues from our clients about the men's hairstyle they want now, as well as a bit of forward planning, as many clients like to change their hairstyle and get a new look on different visits to our central Bristol barber shop.
What we sometimes do for clients is break down men's haircuts into different stages, to lessen the shock of a radical new look required by a client.
For example, going from long to short hair: this is a big step for most of our clients who want to change their hairstyle – our job in the salon on a daily basis is to advise, add confidence and provide barbering expertise every visit.
We always ask our clients if they have the time to maintain and care for a new hairstyle. This is important, as hair care matters more than many realise.
The day is spent looking after clients' needs and following up with the best hair products for men, to ensure our clients give their hair great treatment.
We also examine men's fashion magazines weekly, to keep up-to-date with fashion trends for men, as well as trips into leading fashion retailers in Bristol, to check out what's new, and provide inspiration to our clients when they visit.
Some of our favourite clothing stores and fashion brands in Bristol for men currently include John Anthony, Replay for jeans, Grenson brogues, Paul Smithfor shirts, and Boss for ties.
A busy day advising clients, providing the very best haircuts for men in Bristol, checking out men's fashion in the city, then off home to relax with the family.
To find out more, contact us here.