At Bristol Barber we offer the full range of men's hairdressing, contemporary barbering and and male grooming services in Bristol that our clients expect from a leading men's hairdressers on Gloucester Road in central Bristol.
And one of most popular male grooming services in Bristol remains the classic Hot Towel Shave, as pictured below being delivered recently for one of our clients by Creative Director Franco Lombardi.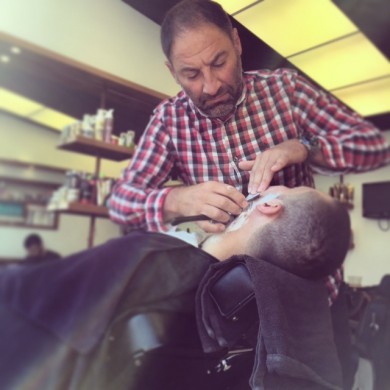 This is one of our top male grooming treatments for men in Bristol, and involves the following:
Hot towel is used to open up pores and prepare the skin
Shave oil (American Crew Shave Cream Lotion) is massaged in
Rotation formula is used to get the beard hair and stubble ready
Brand new blade is used for a clean shave
Second hot towel treatment is applied on the skin, then a second shave
Cold towel and cold water applied, to close up the pores
American Crew Aftershave Moisturiser is then applied for protection
This incredible male grooming service from our men's hairdressing salon in Bristol takes about 25 minutes in the barber chair, and costs a cool £20.
Nothing beats the pampering of a professional Hot Towel Shave service, utilising the best razor blades, top products for skin moisturising, and the best shave a client is likely to have ever had as the end result.
Many clients' wives and partners also use the Hot Towel Shave service gift vouchers as a great way to give the perfect male grooming present in Bristol.
To find out more about our central Bristol barber salon, contact us here.